I am so excited about our next class-
a sketch class! (Feb.1-15)
We have 15 sketches plus a couple of bonus double page sketches to share along with samples, tips and techniques by our Inspired to Scrap Design Team and Guest Designers.
I love sketches because you can use them and adapt them to fit your needs...use any papers, photos, etc. that you want. I also love the challenge of trying to get them all completed during the class period (without deadlines, I don't think I would ever get any scrapping done!)
Here's a peek at one of my sketches this class-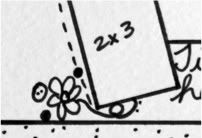 I hope you will consider joining us and challenging yourself to complete at least 15 layouts in February!
We have several fun prizes lined up- little things and big things!!! It's going to be a blast...see you there.
Stacey